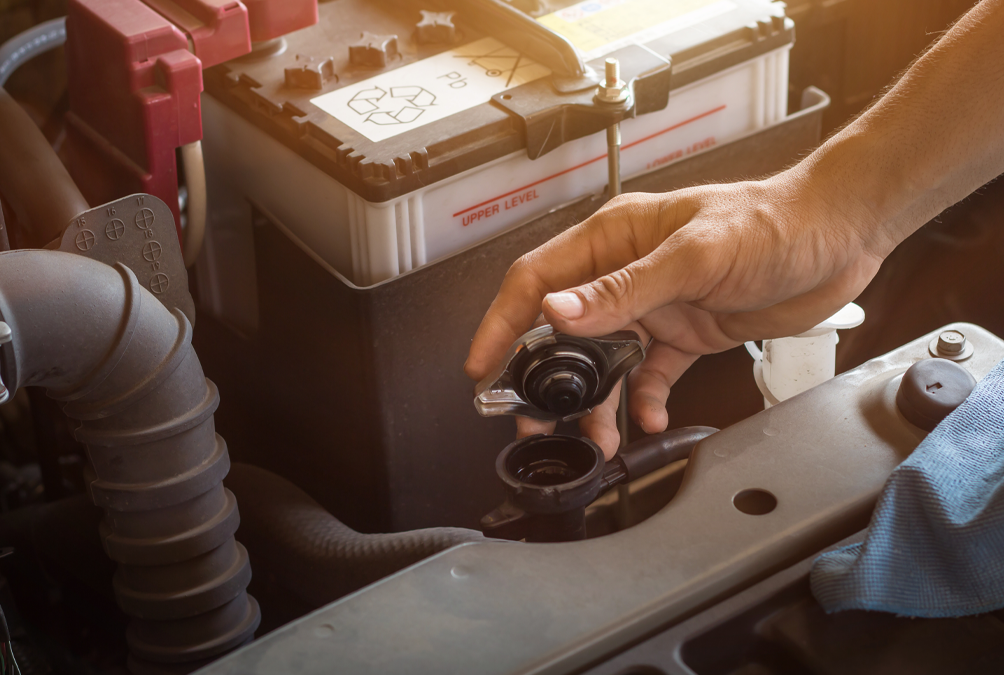 Use Antifreeze to Keep your Engine Cool This Summer & Running in the Winter
With recent temperatures beginning to rise this summer, it is critical to ensure that your vehicle's fluid levels are topped up and contain the proper antifreeze dilution. Let's look at how antifreeze works and why it's so important to keep your car running not only in the winter but also in the hotter summer months.
What is the meaning of antifreeze?
Antifreeze and engine coolant are interchangeable terms that serve a dual purpose in your vehicle by assisting in the regulation of engine temperature. Antifreeze gets its name from the fact that it protects your engine from freezing temperatures during the winter.
If the fluids in your engine freeze, it could cause serious damage and engine block cracking. At the same time, when the engine is running, it gets extremely hot. Antifreeze's coolant properties prevent overheating by removing excess heat from the engine due to its high boiling point.
If your engine is not properly cooled, the lubricant that keeps the moving parts moving smoothly will wear out, leading to premature engine failure or increased exhaust emissions. It is recommended that you have your coolant service completed along with your car service in Reading once a year.
How does antifreeze function?
On its own, ethylene glycol has a freezing point of about -12 degrees Celsius, which isn't particularly low. However, when it is mixed with water to make antifreeze, the chemical structures of the two liquids interfere with one another, causing the freezing point to drop significantly. Using a high concentration of antifreeze can lower the freezing point of the mixture to as low as -64 degrees Celsius. Antifreeze is also found in de-icer sprays and screen wash, which aid in the removal of ice from a windshield and the prevention of freezing of the washer feeds.
Choosing the Best Antifreeze
As cars have become more advanced, so has the engine coolant that helps regulate engine temperature. Corrosion inhibitors in antifreeze extend the life of your coolant; however, different inhibitors are used by vehicle manufacturers, and choosing the incorrect one could result in engine component damage and seal deterioration.
Vehicles built before 1998 must use a silicate-based antifreeze, whereas those built after 1998 must use organic acid technology (OAT) antifreezes, though there are exceptions, and some modern vehicles use a combination of inhibitors.
Before topping off your coolant levels, always consult your vehicle's owner's manual, and if in doubt, contact your local car garage, who can advise you on the proper antifreeze for your vehicle as well as test the strength of your existing antifreeze.
The History of Antifreeze
Long before antifreeze was used in automobiles, French chemist Charles-Adolphe Wurtz discovered it. When ethylene glycol, the primary chemical of antifreeze, was invented by Wurtz in 1856, it had no commercial application. Indeed, one of the first applications of ethylene glycol was in the production of dynamite, after it was discovered that the chemical's cooling properties could lower the freezing point of nitro-glycerine, allowing dynamite to be used in colder climates. Indeed, one of the first applications of ethylene glycol was in the production of dynamite, after it was discovered that the chemical's cooling properties could lower the freezing point of nitro-glycerine, allowing dynamite to be used in colder climates.
Many of the first commercial cars that rolled off the assembly line at the turn of the twentieth century used water as a coolant to keep the engine from overheating. It was quickly discovered, however, that when the temperature dropped below zero, the water would freeze and expand, causing engine damage. Following several failed attempts to develop an alternative coolant that would not corrode engine components, ethylene glycol was first used in vehicles in 1926 and has since become widely used in antifreeze.
4 Benefits of Antifreeze/Coolant
The benefits of antifreeze/coolant are numerous, which is why they have gradually become a vehicle requirement. Here are some of the benefits that these coolants provide:
Maintains Optimal Fuel Economy
Antifreeze/coolant is responsible for extending the engine life of your vehicle. These fluids circulate at the proper temperatures throughout the body of your vehicle, extending the life, protecting, and lubricating all of its components.
Reduces maintenance costs and downtime
Several bench tests, lab tests, and fleet tests were performed to ensure that these antifreezes protect the various vehicle components. These parts include radiators, water pumps, wet sleeves, and all of the polymers and metals found inside your vehicle's engine.
Engine Protection
These antifreezes/coolants contain concentrated blends of high-quality, long-lasting inhibitors that have been shown to provide up to 12,000 miles of guaranteed protection against extreme temperatures, corrosion, rust, scale, and premature water pump failure.
Prevents Car Breakdowns
A problem with the vehicle's cooling system accounts for roughly 40% of all over-the-road breakdowns. However, if used correctly, these antifreeze/coolant options can keep your vehicle running for at least a year.
Book your service now Book your car MOT, service, repair or diagnostics.