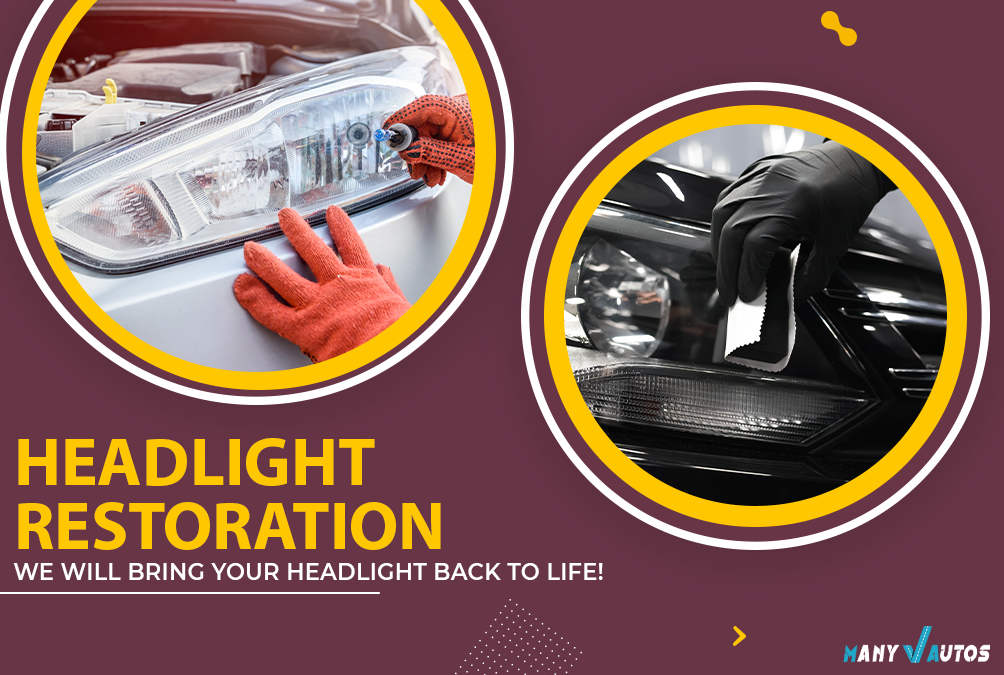 How to Prevent Yellowing Headlights & What are the main causes
One of the most important parts of your vehicle is the headlights. These polycarbonate lens-protected bulbs provide clear visibility at night and protect you from being hit by oncoming traffic. One of the safety hazards to consider is having well-maintained crystal-clear headlamps. This is also a MOT failure, so make sure your headlights are checked on a regular basis during your car service in Reading.
Because glass headlights are expensive and heavy, polycarbonate plastic became popular in the 1980s. This is a type of hard-to-break plastic with a high insulating effect, making it an excellent candidate for a glass headlight replacement. Though this plastic has many advantages, its development has resulted in another issue: polycarbonate is susceptible to UV rays and weather conditions.
What causes your headlamps to yellow?
If you have yellow headlights on your car right now, you have most likely forgotten how to clean them properly. Because yellow fog is caused by excessive exposure to ultraviolet light (UV), dirt, pollution, and other harmful elements encountered on the road, regular car washes do not ensure long-lasting clear headlamps.
When the plastic is not properly cared for, it turns yellowish and blurry, obstructing light from the bulbs. Fortunately, you can repair your own cloudy, yellowish headlights. Cleaning your headlamps on a regular basis, on the other hand, will help to avoid this inconvenience. All you have to do is follow these instructions or if you are not confident in the DIY method, search online for full car service near me and let a professional handle it for you:
1.
Short-term and long-term solutions
There are two normal methods for making your headlamps look crystal-clear. It's not rocket science. Simply mix toothpaste with car wax, or sand and spray. We don't need to argue with anyone because certain situations and conditions may necessitate a quick fix or a time-consuming method. We can assure you that both methods are effective, you simply need to consider how much time you have and how badly your headlamps need to be repaired.
2. Toothpaste
is used to clean polycarbonate plastic
Using toothpaste is one quick solution that is considered a short-term trick that works. Plaque-removing toothpaste is recommended as they are the most effective in dealing with oxidation of your headlamps. To clean your headlights, all you need is a sponge, a clean cloth, painter's tape or masking tape, optional car wax to make it shiny and of course, toothpaste.
Apply toothpaste to one side of the sponge and rub it directly on the surface of your polycarbonate lamp covers. Remember that you must do this slowly and in a circular motion to get the best results. Thoroughly rinse it with clean water and pat it dry with a clean cloth. Remember, this could only last 2 to 4 months so sometimes it is better to let a car mechanic do it properly and search for car service near me.
3.
Use sandpaper
Sandpaper may sound a little too harsh for your headlamps, but it is the best method if you want a long-lasting result. Sandpaper with grits ranging from 400 to 600 (depending on how cloudy they are) and 2,000, a bucket of clean water, painter's tape, a clear coat, rubbing alcohol, and a dry towel are all required.
To start with, wet your headlights and dampen the 400 (or 600) grit sander in the bucket. Section by section, sand the headlight in small circles until it is completely covered. This process may need to be repeated two or three times to ensure you haven't missed any spots. Continue to splash the appropriate amount of water throughout the sanding process. Rinse it thoroughly and pat it dry with a clean towel.
Before applying the clear coat, clean it with rubbing alcohol and wipe it down with a paper towel to ensure it is dust-free. The next step is to secure the surrounding area with painter's tape by covering it with newspaper or a plastic bag. Spray your clear coat on evenly and thoroughly, and then repeat a few times. Give it a day to dry properly and your headlights should look brand new.
4.
This is something you should do every time you wash your car
A regular car wash, as previously stated, will not provide your headlights with a long-lasting shine. You'll need a plastic protectant and a UV protection coat for this project. Make sure to apply these to your headlights after washing your car to keep their beauty and shine. Keep in mind that headlights are an aid to clear vision when driving at night, so you should never put your safety at risk.
Book your service now Book your car MOT, service, repair or diagnostics.